---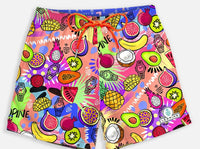 Bold, exclusive, colorful.

That's our approach to men's clothes. Furthermore, one of the wardrobe pieces where the gentlemen can be flashy is swimwear. So we decided to create this tropical fruits pattern. Because life is too short to wear boring clothes. This colorful swimwear is the perfect companion for all your swimming pool, beach or cabanas lifestyle. If that were not enough, we include the most sought after watches out there.

The inspiration.
As a watch geeks, we were sure that someday, sometime, we had to release a salmon color base swimwear. Salmon color is for watches as important as purple for kings.

For the first time, we have added:
Tailored back pocket.
Customized buttons.
Customized cord end.
Double sewn finishes.
Attention: Be careful when wearing it, some flippers would like to buy your swimshorts to sell them over chrono24.

Size Guide.
| | | | | | | |
| --- | --- | --- | --- | --- | --- | --- |
|  LEOPINE SIZES |  S |  M | L  | XL  | 2XL  | 3XL  |
|  EUR |  38-40 |  40-42 |  42-44 |  44-46 |  46-48 |  48-50 |
|  US/UK |  28-30 |  30-32 |  32-34 |  34-36 |  36-38 |  38-40 |
|  A (Relaxed) |  36 cm |  38 cm |  40 cm |   42 cm |  44 cm |  46 cm |
|  A+ (Extended) |  47 cm |  49 cm |  51 cm |  53 cm |  55 cm |  57 cm |
|  B |  32 cm |  33.5 cm |  35 cm |  36.5 cm |  38 cm |  39.5 cm |
|  C |  32 cm |  33 cm |  34 cm |  35 cm |  36 cm |  37 cm |