---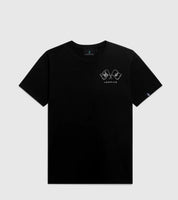 Diver is the new black.
This black t-shirt is what Henry Morgan would wear in Miami after plundered some Spanish Galleons in the Caribbean Sea. In this exclusive pattern you will find every tool a true pirates need, and there is a watch, for sure. There are not evidences, but we are sure there were all wearing diver watches. You never know what you have to do when you are a pirate. So the diver watches are the best option for your lifestyle. Sometimes Monaco or Vegas could be wilder than an offshore battle.

The inspiration.
Diver is the new black. It always was. Maybe the first "serious watch" of a lot of our tribe. It's the beginning of a never ending collecting journey. The blue color contrast is a reference of the markers when the night hits. You know what we are talking about.


 LEOPINE SIZES

 S

 M

L 

XL 

2XL 

3XL 

 EUR

 50 cm

 19.6 in

 53 cm

 20.8 in

 56 cm

 22 in

 60 cm

 23.6 in

 64 cm

 25 in

 68 cm

 26.77 in

 US/UK

 70 cm

 27.5 in

 72 cm

 29.3 in

 74 cm

 29 in

 76 cm

 30 in

 78 cm

 30.7 in

 80 cm

 31.4 in