---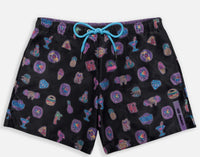 Make the Ordinary, Extraordinary.

It is not just horology. It is the way you travel, the way you dress, it is basically your attitude to life. The pop world that we have recreated in this design is a copy of the vitality and exclusivity that these watches conceptualise.It is not just a brand, it is not just a watch.
It is breakfast in the morning at the Ascari circuit in Malaga and a neon night in London. It is sunrise on Palm Beach and then getting lost in a Wynwood night.
Details
Quality inside and out. The inner mesh is manufactured in Portugal and finished with ECOTEX which facilitates quick drying and in addition is anti-bacterial.
Tie-cord: We always offer a touch of colour and exclusivity with our characteristic vibrant laces. A different and exclusive element that will not go unnoticed and nor will you.
Designed in Barcelona and handcrafted in Portugal: The creative process, as always was carried out in Barcelona but this time the product was produced in Portugal, the cradle of the best swimwear manufacturers in the world.
Size Guide 
This year the sizes are standard, our swimshorts are super comfortable, please buy the size you usually wear.
 Don't hesitate to contact us if you need further information or help choosing your right size.